Worship
As of 08/17/20 we are now offering one Traditional Service at 11am and one Contemporary Service at 9:30am.
Click here for more information on re-opening.
Click here to register for in-person worship
Worship is the primary means for connection with God as Father, Son, and Holy Spirit, and creates community within the body of Christ.
Here are our weekly worship opportunities that we offer here at Suntree United Methodist Church:
Traditional Services - 11am (in-person and online)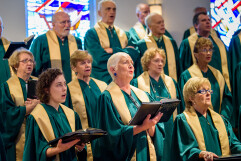 Our traditional services offer a variety of sacred music, creeds, and liturgies. Music is lead by our chancel choir, and also features a beautiful pipe organ.
Contemporary "The Gathering" Services - 9:30am (in-person and online)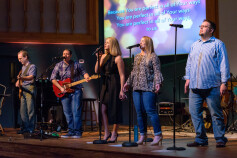 "The Gathering" is our contemporary service which features modern music lead by our Worship Team. This service also includes elements such as the use of multimedia, stories, and conversational preaching.
Communion is offered on the first Sunday of each month in all services.
---
Want to get involved?
It takes a village to make worship services happen! We are always looking for people to join the various teams. If you are interested in any of our teams, click on the contact links below to get the conversation started!
"The Gathering" Contemporary Worship Team
Are you a musician or vocalists? We would love to talk to you about getting involved! We are always looking for new musicians and vocalists to join our worship team. If you would like get involved, click the button below!
Traditional Worship Team
There are a few different ways to get involved with our Traditional Worship team!
Chancel Choir
Singing, both congregational and choral, has been at the center of worship at SUMC since 1983 when the church was founded. The mission of the SUMC Chancel Choir is to lead each worshipper to a meaningful encounter with Christ Jesus. We do that by singing well-crafted music with great theological integrity. To accomplish this, singers commit lots of time in rehearsal and at the 9:30 and 11:00am traditional services every Sunday.
Glory Ringers Handbell Choir
The SUMC Glory Ringers Handbell Choir is comprised of faithful ringers drawn from our church membership. We ring five full octaves of Schulmerich handbells and often employ advanced ringing techniques. Rehearsals and performances take place during the school year, September-May. We play in all three Sunday morning traditional services about three times every fall and three times every spring, including on Easter Sunday. Membership in the choir is dependent upon strong music reading skills and the willingness to commit to every single rehearsal.
Production Team (either service)
Do you like technology? Do you like working "behind the scenes"? We are always looking for people to join our Production Team! Here are some ways you can get involved: Audio, Propresenter (lyrics) , and Lights. If you are interested in getting involved with our production team, click the button below!
Guest Services Team
Do you like making people feel welcome? Do you have knack for hospitality or making people feel at home? We are always looking for people to join our Guest Services team! Volunteering for one or more of these servant opportunities is a great way to get involved in your church, fellowship with others, and meet new people. You can help as few or as many times as you'd like, since all are done on a weekly or monthly rotation basis. Here are some ways you can get involved:
Greeters – come to worship early to greet our visitors and members with a welcoming smile as they arrive.
Welcome Table - be at the welcome table before and/or after worship to greet people, provide our first time visitors with a gift, answer questions, or give directions.
Ushers – come to worship about 15 minutes early to hand out bulletins and greet our visitors and members with a welcoming smile as they arrive, and during the worship service, help with collecting the offering, communion, and clean-up after the service.
Hospitality – help with the set-up, serving and/or clean-up of the refreshments in our dining room.
Paraments (Traditional Only) – prior to Sunday morning, prepare the Sanctuary for worship by changing the alter cloth and refilling or replacing candles.
Alter Decorations (Primarily Gathering) – assist with decorating the alter(s) based on the current sermon series. This can be done anytime during the week.
Alter Flower Pick-Up / Delivery – pick-up flowers from the Suntree Square Publix and place them on the Sanctuary alter on Saturday afternoon
Donut Pick-Up – pick-up donuts from Wal-Mart on Sunday mornings at 7:45am and delivery them to the SUMC kitchen.
Communion – prepare the elements for communion