Declutter Christmas
Let's simplify the season together.
Christmas is a time to reflect on the birth of Christ, as a humble child in a Bethlehem manger, sent to be the savior of the world. It's also a time to decorate, bake cookies, shop for gifts, clean for visitors, fellowship with friends, and wear ugly sweaters. How often are we guilty of letting all the details cloud the purpose of this season?
This Advent at Suntree UMC, we are looking at the ways we can Declutter Christmas, to shift our perspective from the spectacle back to the peaceful child who sits at the center of the Christmas chaos.
Download our Declutter Christmas Calendar!
Advent Events
Blue Christmas Worship - December 8th, 6:30pm - 7:30pm
An evening worship service meant for those who are struggling to capture the feeling of Christmas due to experiencing a loss. Through this time of worship, we will remember those who have passed and embrace the hope brought to us by the newborn savior.
The Nativity Experience - December 11th, 5pm - 8pm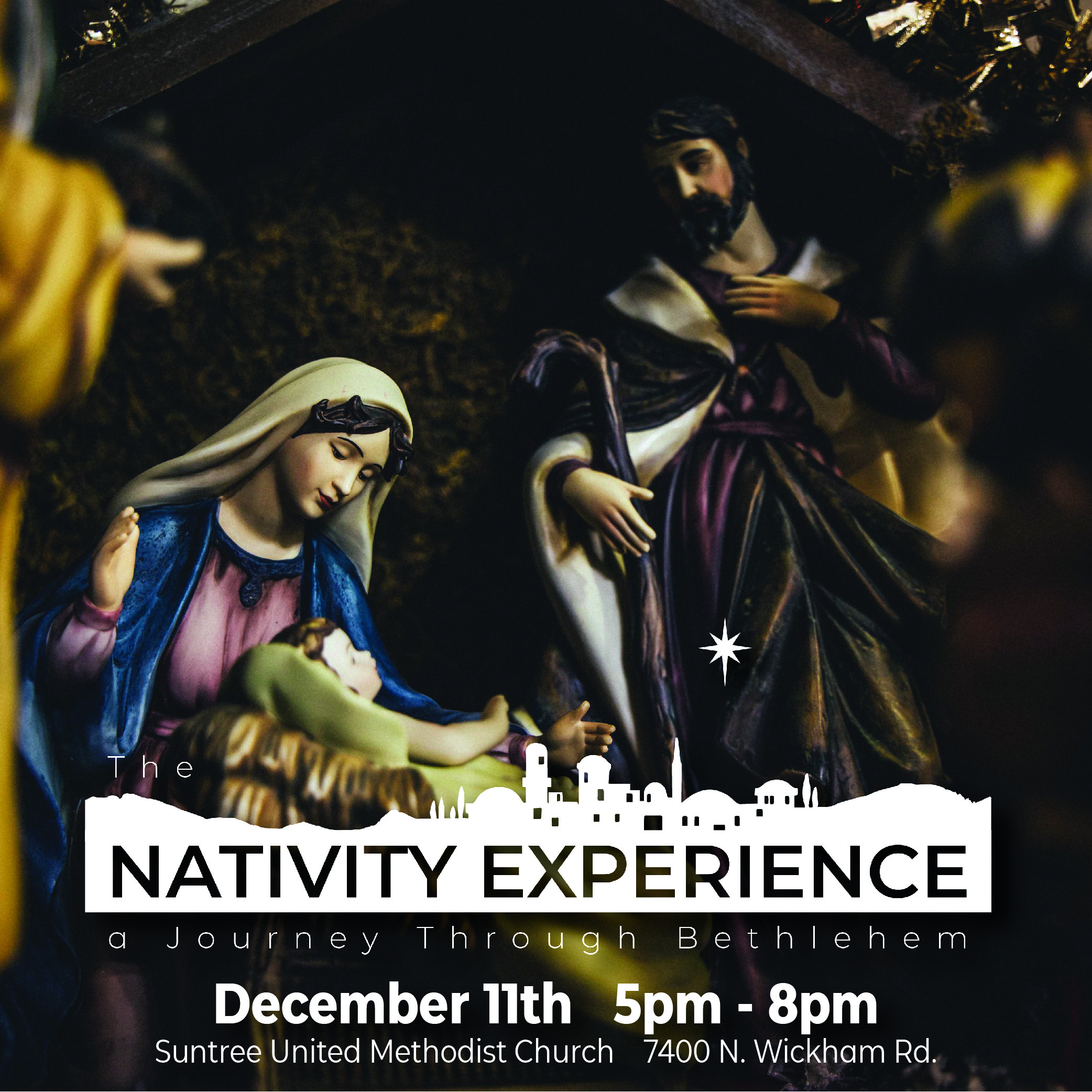 Experience the days surrounding the birth of Christ as you drive-thru the streets of Bethlehem. Watch as Mary learns that she will carry the son of God and makes the long journey with her husband Joseph. Visit the manger as the newborn Christ lies sleeping beneath the Christmas Star!
Children's Christmas Musical - December 19th, 9:30am
Suntree Kids presents The Signs of Christmas, a musical that explains the symbols associated with Christmas and their meaning. Rehearsals are Sundays at 11am, and parts are still available for elementary-aged students!
Sign up for the Children's Christmas Musical
Christmas Cantata - December 19th, 9:30am & 11am
This year the Suntree UMC Chancel Choir is excited to perform "Canticle of Joy" as our annual Christmas Choir Cantata. Canticle of Joy incorporates many beloved carols in new settings to produce an affirmation of hope for the season. We hope to see you all there to help spread the Joy of Advent!
Christmas Under the Stars - December 23rd, 7pm
Gather with us outside on our front lawn for night-time worship featuring contemporary and traditional music. Bring your own chair or blanket!
Christmas Eve Worship - December 24th
4pm - Family Worship - Worship Center
6pm - Contemporary Worship - Worship Center
5pm, 7pm, 9pm - Traditional Worship - Sanctuary
Poinsettia Dedications
Every Christmas, we honor our loved ones and remember those who have passed away through our Poinsettia Dedications. There is a special envelope in your bulletin for poinsettia dedications. Poinsettias are $12 each. You can also make this dedication and payment online by clicking the link below. The dedication brochure will be in your Christmas Eve bulletin. Any proceeds over the cost of the poinsettias will go to the funds which support the global ministries of the United Methodist Church.