The Nativity Experience: A Journey Through Bethlehem
Audio Narration: Do not begin until you enter our parking lot. Listen for instructions to pause and play at numbered signs throughout your journey.
Make a donation to Zoe Empowers
Looking for a safe holiday activity? Bundle the kids in the car and head to The Nativity Experience: A Journey Through Bethlehem at Suntree United Methodist Church on Friday and Saturday, December 11 and 12, from 5:00 PM until 8:00 PM.
Volunteers will provide carfuls of onlookers with a live-action look at life in Bethlehem 2,020 years ago. Cars will wind their way through a series of lighted vignettes erected in the church parking lot at 7400 N Wickham Road in Melbourne, where costumed actors will depict scenes from the biblical birthplace of Jesus.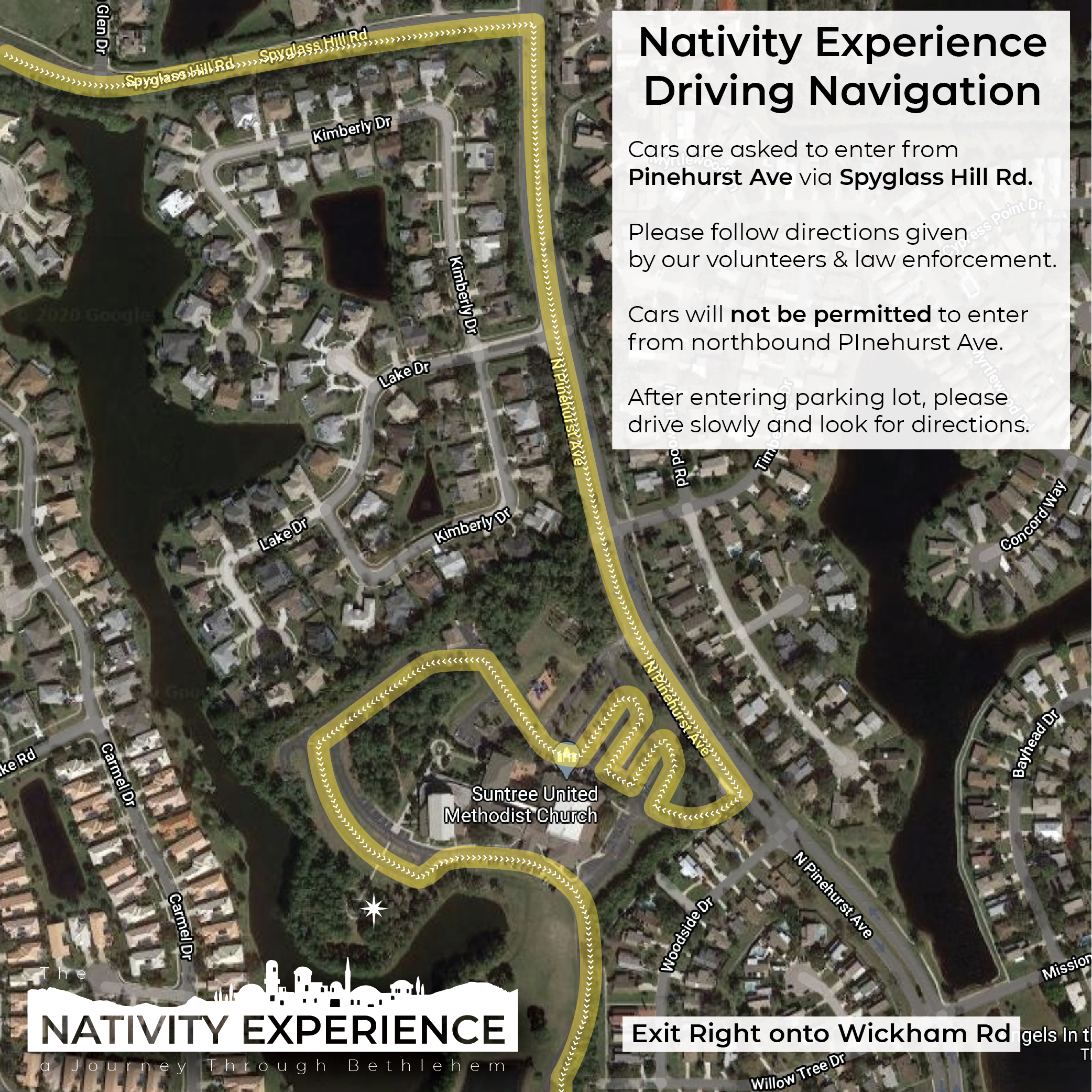 For an audio narration, families can scan a QR code with their camera app, or request a CD when entering the car line. The 15-minute "journey" will conclude with a stop in front of the nativity scene, complete with live animals. The Nativity Experience: A Journey Through Bethlehem is a free drive-through event, with donations accepted on behalf of Zoe Empowers, an organization that provides opportunities to vulnerable children in developing countries.
An Interview with Director of Outreach/Nativity Experience Coordinator Staci Plonsky:

Q: What inspired this drive-through take of the Nativity?
A: When we looked at all of the events we had to cancel this year due to COVID-19, we realized that we needed something positive and joyful to look forward to. As Christians, we find joy and hope through celebrating the birth of Jesus Christ. Christmas is such a wonderful season, and we wanted to bring out the "fun" and joy in celebrating this holiday. And so, we brainstormed ways to create a COVID-safe way to share this message of Hope in the pandemic. We decided a drive-through nativity experience would be meaningful, could benefit Zoe Empowers (the missions beneficiary of any financial gifts from this event) and would meet physical distancing requirements!
Q: What are you most excited about bringing this experience to the public?
A: We are so excited to see all the people come through this! They will be following an audio narration that sets the scene for our journey through Bethlehem, and we can't wait to watch their faces light up when they see the Christmas story come to life! (Also, the live animals! Our "shepherds" are SO excited to tend real sheep!)
Q: Where will you be getting the props? Will any part of it be hand-made?
A: Almost everything is handmade! Our "marketplace" is custom-decorated by many volunteers; we have a team that has designed and built the vignette sets, and many costumes are also assembled and created by volunteers.
Q: Who will be involved with the experience? Do you have any youth groups participating?
A: Our entire church community is involved in this! Many life groups, families, youth and children from Suntree United Methodist Church are volunteering their time, props, and creativity to make this happen!
Q: How does it feel to be able to spread the spirit of Christmas through the birth of Christ this year?
A: It feels wonderful to give our community a fun, heartwarming experience after so much loss we have all experienced through the pandemic. We are so grateful to participate in sharing our Christian tradition's message of God's love for the world, demonstrated through the birth of Jesus!
We need volunteers to make this event a reality!