Re-Opening at Suntree
Update 07/27/20: We will be having worship in-person beginning on

August 9th!

All of our re-opening plans to keep you safe are below. Please review the information and changes that we are making. If you have any questions you can contact the church office.
---
As the businesses begins to tentatively reopen, we here at Suntree UMC have been hard at work with our reopening procedures as well. These procedures and guidelines have been put in place so that you can have full faith in our desire to reopen as safely and securely as possible, and so that we can all be on the same page in our endeavor to love our neighbors and not transmit the coronavirus. We find our basis for these behaviors in Jesus's commands to love throughout the Gospel, which is expressed in our concern for our neighbors' health and well being.
Here are a few things you can expect when attending in-person worship:
Online Registration:

We will ask that you register for the service you wish to attend before worship. This will help us ensure social distancing and our desire to keep at 25% capacity. If your service is full, you may be asked to pick a different service. We will have one Traditional service at 11am, and one Contemporary service at 9:30am. Click here to register for in-person services.

Mask Usage:

You will be required to wear a mask while you are out of your car and on Suntree's property. This is to put everyone at ease and keep you safe! If you do not have a mask, one will be provided for you. There are no exceptions to this rule. If it is not possible for you to wear a mask while on Suntree's property for worship, please consider joining us for online worship.

If You Feel Sick:

Please do not plan to attend worship

! We will still offer online worship. Please monitor yourself closely for symptoms of COVID-19 to keep your neighbors safe.

Sanitizing:

We have installed multiple hand sanitizing stations throughout our spaces. Please use these frequently. Note that our maintenance team has new equipment to sanitize each space after worship in a timely and effective manner. We plan to clean each worship space between each service.

Social Distancing:

Please abide by the "six feet" social distancing rule while walking, standing during conversations, and while seated within the Sanctuary and Worship Center. This helps us care for our neighbors. Please do not hug, touch, or get close to individuals who are not members of your household.

No Singing:

Due to the plethora of research on singing as a "super-spreading behavior" we will be encouraging you to not sing in worship. You can whisper or hum under your mask, but we ask that you please not sing. Our worship leaders will help you remember this and will be singing at a social distance.

Other Worship Elements:

We will not receive an offering by passing the plates but we will have containers at the back of church for before or after worship to receive your offering. Communion will be served in pre-wrapped, individual wafers and cups of juice. Gluten-Free elements will also be available. The pastors will wear masks unless they are speaking.
These guidelines will extend to other events, large and small. Please note that any time you visit Suntree, you will be asked to wear a mask, ensure that you have not had symptoms for COVID-19, and socially distance. If you are still uncomfortable gathering, or these guidelines would be difficult for you to follow, please know we will continue to offer online worship. We will offer worship live streamed at 9:30am for Contemporary, and 11am for Traditional. Please note that there is no pressure to regather- we want you to be safe and to help keep your neighbors safe as well! Please do not hesitate to reach out to our team if you have any questions at all. We look forward to gathering in a socially distanced way very soon.
---
Suntree UMC Group Meeting Re-opening Procedure
After July 7th, the following procedure must be followed for ALL groups desiring to use ANY space at Suntree UMC.
Step One: Group Liaison Contact
If the group works within Suntree, the staff liaison will contact them to establish expectations around gathering again.

This is included but not limited to: resubmitting a facility request to abide by social distancing, wearing masks, individual responsibility for temperature checks, and commitment to sanitation procedures. These policies are general practice for all of Suntree while we continue to address this Pandemic, and are attached to this document.
Step Two: Facility Request & Usage
Once the group has established these procedures, they can submit a new facility request to Charlotte. She will evaluate their request based on a) size and b) rooms available. (This is also helpful for our new event registration system.)

Rooms 108, 109, The Library and The Den should only be used for counseling or 1-3 people.
Rooms 101/102, 103/104, The Loft, Sun City, and the choir room can be used for groups between 4 and 15, keeping six feet of distance.

Small rooms in Loft/Sun City should be only used for very small groups, and confirmed with Joel Lusz and Lia Page.

The Dining Room can be used for 50-65 people, keeping six feet of distance and depending on room layout.
The Worship Center can be used for 125-135 people, keeping six feet of distance and dependent on room layout and other events scheduled.
Groups can schedule events outside with little to no restriction. They should still submit a request in order to use bathrooms and let our staff know who is on property.

Charlotte will approve, deny, or redirect these requests based on these guidelines. The group may have to adjust their time/date to accommodate these new guidelines and other groups. This will be done on a first come, first serve basis.
Step Three: Liability & Sanitation
The groups' leadership would each have to sign documentation saying they have their own insurance, they accept liability for any COVID-19 exposure (form attached) and that the group takes responsibility for cleaning/enforcing social distancing. The group would receive consent from their members to follow guidelines.
By cleaning, we mean sanitizing after hours by doing the following:

Using the paper towels and cleaning solution provided, please wipe down all surfaces used in the room. Please take out the trash (to the kitchen). Please push in chairs, turn off lights, and wipe down any other high touch surfaces (tables, light switches, etc.) If bathrooms are used, please leave doors closed to notify our staff they have been used.

If the group refuses, or is unable to, abide by our guidelines and sign the above paperwork, they cannot use our facility, because we cannot put our staff/church at risk.
Other information:
For large-scale events, approval needs to be obtained from the CLC and pastoral team in order to comply with needs for other ministries/churches
For large scale events, sanitation requirements will be different, as well as requirements for social distancing. This would need to be affirmed by CLC.
To get the process started for your group meeting on campus please contact Rachel Kelleward ( )
---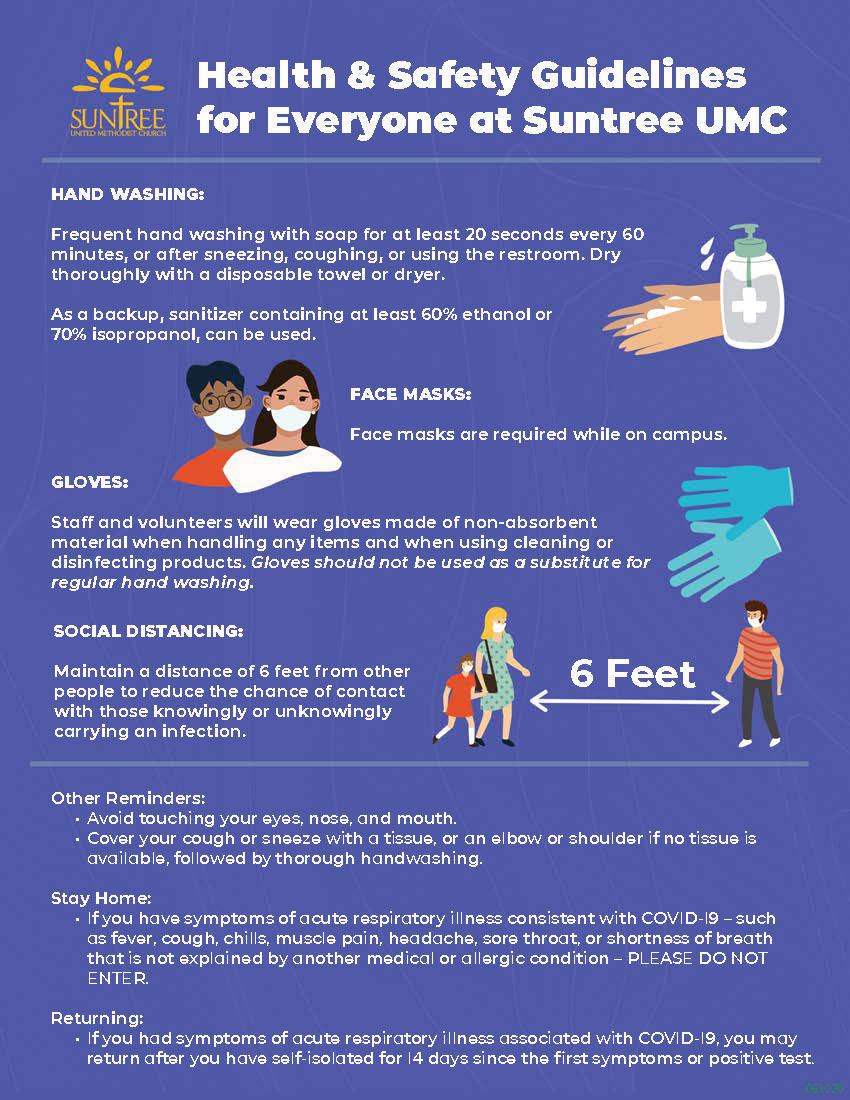 ---
Frequently Asked Questions (FAQs) for Re-Opening the SUMC Campus
What do I need to do to attend a worship service?
When in person worship does resume, we do need to follow the social distancing guidelines, we will need to limit the amount of people at each worship service. A registration link will be made available when a re-opening date for in-person worship has been set.
You can also contact the church office at 321-242-2585, Monday – Thursday from 9am – 2pm, or via email at , and we can put in your reservation for you.
What if I registered already, but now I realize I can't make it that Sunday?
To ensure we have room for everyone who wishes to attend, please un-register if you are not able to attend a worship service that you already registered for. You can also contact the church office at 321-242-2585, Monday – Thursday from 9am – 2pm, or via email at , and we can put in your reservation for you.
Are face masks required?
Yes, we are asking that you use a face mask anytime you are inside of the SUMC buildings. This is meant to protect other people in case you are infected. As a reminder, before putting on a face covering, you should wash your hands and always put the same side against your face to avoid wearing the "contaminated side" against your nose and mouth. When removing your face covering, use the straps to avoid touching the part that protects your face. The CDC recommends that you wash re-usable face covering after each use.
Does my child need to wear a face mask?
Yes, all children, except those under age 2, should wear a face mask.
What if I do not have a face mask?
We encourage you to have and bring your own face mask, but if you don't have one, we will have a small supply of re-usable masks available at each of our entrances. Before leaving, please leave the mask in the appropriately marked containers so that they can be sanitized appropriately.
Will Communion be offered in the same way as in the past?
Unfortunately, no. Communion will be different for the foreseeable future. We will have individually wrapped, pre-filled cups and communion wafers available on Communion Sunday. Ushers will provide these to you as you enter the Sanctuary or Worship Center. You will need to hold on to them until Communion time during the worship service, and then discard the container as you exit.
Will Gluten Free Communion still be available?
Yes, we will also have individually wrapped gluten-free wafers and pre-filled cups available. Please advise the usher that you need gluten-free elements as you enter. Ushers will provide these to you as you enter the Sanctuary or Worship Center. You will need to hold on to them until Communion time during the worship service, and then discard the container as you exit.
Where can I place my offering?
There are 3 ways in which you can provide your offering:
1. You can provide your one-time or reoccurring gift online via our secured website by clicking here. Your information is held securely by an SSL encrypted connection. This information will remain private and will never be given away to third parties, other than to process your scheduled contributions.
2. You can leave your offering in one of 2 white boxes are you enter or leave the Sanctuary or Worship Center. If you cannot locate the box, please ask an usher.
3. You can mail in your offering to:
Suntree United Methodist Church
7400 N. Wickham Road
Melbourne, FL 32940
Will I be able to get a bulletin again?
Yes! Bulletins are now available for in-person worship. You can also find it online here
Will I be able to get a ride in the golf cart?
Yes, but we ask that you wear your mask when you ride in the golf cart. The driver will also be wearing a mask.
Will we be following the recommended social distancing guidelines?
Yes, we are asking that everyone outside of a family or friends group maintain a distance of 6 feet (2 arms' length) to reduce the chance of contact with those knowingly or unknowingly carrying the infection. We ask that you respect this guideline and maintain a 6-foot distance when you come to worship or a class at SUMC.
How often should I wash my hands?
Hands should be washed with soap for 20 seconds at least every 60 minutes and dried thoroughly with a disposable towel or dryer. Hands should also be washed after you have been in a public place, or after blowing your nose, coughing, or sneezing. Avoid touching your eyes, nose, and mouth with unwashed hands. Remember to always cover your mouth and nose with a tissue when you cough or sneeze or use the inside of your elbow.
Will hand sanitizer be available?
Yes, hand sanitizers will be available throughout the facility on walls and tables. Please note that hand sanitizers should not replace frequent hand washing.
Do I need to wear gloves?
No, you do not need to wear gloves. Gloves should only be used when handling items on which infection can be transmitted or when cleaning or disinfecting products. Therefore, you will see our maintenance staff and some ushers wearing gloves. Please also remember that gloves should not be used as a substitute for regular hand washing.
What criteria should I use in deciding whether I should come to worship or stay home?
If you have symptoms of acute respiratory illness consistent with COVID-19 – such as fever, cough, chills, muscle pain, headache, sore throat, or shortness of breath – and that is not explained by another medical or allergic condition, please continue to worship with us on-line.
If I've had COVID-19, when can I return to the SUMC campus for worship or other functions?
If you had symptoms of acute respiratory illness associated with COVID-19, you may return after you have self-isolated for 14 days since the first symptoms or positive test and are now symptom free.
Will the SUMC worship spaces, classrooms and bathrooms be cleaned and/or disinfected?
All frequently used and touched surfaces will be clean AND disinfected, including tables, doorknobs, light switches, countertops, handles, pews, chairs, toilets, faucets, and sinks.
What should I do to ensure I do not infect someone else?
Be alert for symptoms. Watch for fever, cough, shortness of breath, or other symptoms of COVID-19. Take your temperature if symptoms develop but avoid taking your temperature within 30 minutes of exercising or after taking medications that could lower your temperature, like acetaminophen. Follow CDC guidance if symptoms develop.